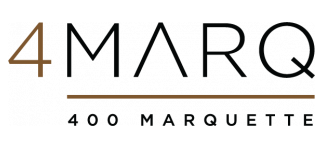 Your Review
Submit a Review

Resident Reviews
Great place to live, quiet, best location downtown, great apartment layouts
|

Recommended: Yes
Peter, thanks so much for the review! We're so glad you enjoy your time here.
This property is modern and clean. |Recommended: YesI really enjoyed living here. The community of friends I have now is thanks to the Yoga classes provided by the building. This was a great place to live for the last two years.
Exemplary services
|Recommended: Yes
I am currently staying in the guest suites and it I have been on the receiving end of wonderful services by a woman named Ruth who at the front desk. She was friendly, kind, and a pleasure to speak with. I recently began working downtown and Ruth's wonderful commitment to her job and professionalism has motivated me to begin the process of touring apartments to move in. I hope Ruth is commended for her great work This is a wonderfully well-kept complex and I couldn't imagine any problems arising if the staff are as alert and wonderful as Ruth
Ruth, Thank you for your review! I am happy to hear that you had a nice stay in our guest suite, and a positive experience with our team. We look forward to seeing you again soon. Sincerely, Jane S., Business Manager
Resident Review|Recommended: YesClean with friendly staff
Like the community for friendly Office and Concierge desk staff
|Recommended: Yes
I am most impressed with the courteous office staff . Happy and friendly neighbors and facility of Dog walk and pet friendly community. Close to workplace is added benefit for me to stay in 4Marq.
Bindu, thank you for your kind words! We've sincerely appreciated your residence, and are happy to hear that you've enjoyed living at 4Marq so far. - Jane S.
NA
|Recommended: Yes
NA
Thanks for the review, Shannon!
Overall great place to live |Recommended: Yes4Marq is in one of the most convenient locations to downtown Minneapolis attractions. The maintenance staff is in every morning making sure the grounds are clean and well kept. You get what you pay for here, and that's a good thing. The only things that could be improved would be guest parking as there are very few spots, and most of the time the same vehicles are parked there. I'm also able to hear the noise of my neighbors since bedroom floor plans are often next to each other. If you don't mind the noise and wont have guests over often needing to park, this is certainly the place to be. A side note would be the great fitness facility on the rooftop
Exceptional Multi-Family Living The BEST Customer Service |Recommended: YesHands down I'm more than happy with my residency here at 4Marq. Classy, sophisticated, upscale community. I love that you can't hear between the walls, very quiet living for a multi family. Anything customer service related attended to timely and with ease. I could be here a long time if you'll have me Every place has cons, none of these swaying my comfort level or how highly I regard 4Marq. The pros outweigh by far, and for the most part the cons aren't so much cons as they are just basic. Nothing special. Weekend Concierge Kinda flighty, not so knowledgeable, the bigger African American gentleman who works a lot of weekend nights, never at the front desk, on the phone or outside. The few times I've ventured out of my apartment on the weekend anyway. Parking 5 spots I believe. Weekends nearly impossible to take advantage. It was once mentioned that one tenant had two guests utilizing 2 spaces. Considering how few we have, perhaps limit one at a time per tenant Materials Appliances There may have been some money saved on select items but I don't want to know what rent would be if not . In unit doors, flooring, kitchen laundry appliances. All but one not at all a problem, in fact the laminate floors are preferred, these items again just basic. The washer, however, I think could use upgrading. It's small with low water levels, and while I try not to overfill, I have had clothes tangle or get stuck in the bottom spinny thing you know what that is, right wink . Elevators need TLC Maintenance issues, often one is out of service, floors dropping from the display of selected floors, and user error issues related to how floors are selected 31 3 1 , and the 2 second delay registering selected floor. On more than one occasion I have missed my floor bc of selection issues. I do hope the problems here resolve soon, probably the only real frustration I've experienced.
Average tried to save money. |Recommended: NoExpensive for what you get. Amenities are average compared to the city. Cheap fixtures and no idea why the parking walls have holes in them. They do realize this is MN and it gets cold
A chic classic downtown dream
|Recommended: Yes
Living here is exactly what you would picture downtown living in an upscale apartment to be. It's wonderful.
Having wonderful neighbors like you is a definite added bonus! Thanks, Hannah. -Jane
Great building downtown
|Recommended: Yes
The community is great, convenient location, and love that it is a newer building. Glad they are redoing the hallways there were originally some pretty offensive colors, great update progress. Overall inside the apartment looks great, lower quality of flooring and appliances and overall finishes of the apartment, but for the value of being downtown and what you pay for the apartment it is alright. Haven't been in a building with friendlier staff, so that makes it more worth it.
Thank you for your feedback, Samantha! I'm glad to hear that you've enjoyed your residence at 4Marq, and have had such a positive experience with our team. We are always open to adapting as a community to meet the expectations of our neighbors, and ensure that you continue to love calling 4Marq home! -Jane
Convenient and Modern
|Recommended: Yes
4MARQ is a modern oasis in downtown Minneapolis. We love the location near the train and also ease of getting in and out of parking garage. Upgraded fixtures really make this apartment feel like a home.
We're so happy to call you our neighbor, and are glad to hear you love 4Marq just as much as we do! Thank you for the review, Cristina. - Jane S., Business Manager
Awesome apartment in downtown MSP
|Recommended: Yes
I love the location and the proximity to light rail. Building itself is well built and love the amenities here especially during the summer time. Staffs are super nice and helpful. Would live here again next year
I'm happy to hear you've enjoyed using our amenities, Paul. The rooftop terrace in the summer-time is definitely one of our favorite building features! We can't wait to help you with renewing your lease in the coming year. Best, Jane S.
Convenient to Light Rail|Recommended: YesExcellent building
Awesome apartment, views, and staff
|Recommended: Yes
Living in a killer building with parking and public transportation at your door in the heart of Downtown. Not to mention the top deck amenities and activity community events put together by the staff
Roger, Thanks so much for your feedback! We're glad to hear that you're enjoying all of the conveniences of our awesome location. We can't wait to see you at our next event. Sincerely, Jane S.
The views and opinions expressed herein are solely those of the original authors and other contributors. These views do not reflect the views of 4Marq, its owners, managers, agents, employees or content providers. No representation or warranty, express or implied, is made or given by 4Marq, its owners, managers, agents, employees or content providers regarding safety, accuracy, completeness or suitability of the information or material expressed herein for any particular purpose